MAIL ORDER
your copy of these vinyl albums
kept in storage since 1984.
shaolinCOM SPECIAL ARCHIVE Price
$88.88
(includes shipping U.S.A. -- Foreign orders add $8.00)

Product Information

Acoustic Guitar: 1972 Alvarez 12-string
Bass: 1957 Rickenbacker 4000
Composer: all music and songs
Electric Guitar: 1984 Fender Stratocaster
Musician: performing all instruments:
acoustic guitar, backing vocal, bass, drums, electric guitar, lead guitar, orator, percussion, slide guitar, lead vocal, spoken word poetry
Photos: cinematographer, photographer
Philosopher: Buddhist Scientist
Poet: poetry and lyrics
Singer: singing all lead and backing vocals
Tambourine: Ludwig 2-row w/out head
Vocals: Lead Vocal all songs




Electric Guitar : Rhythm Guitar
Backing Vocals: "We're Not Working Out," "Temptation," "My Child"




Electric Guitar : Lead Guitar
Lead Guitar Solos: "We're Not Working Out," "Temptation," "My Child"

John Merritt


Drums: "Temptation," "We're Not Working Out," and "My Child."




Keyboards: Hammond B-3 organ

Recording Engineer: Cherokee Studios and Capitol Records

Recording Engineer: Capitol Records, Studio 55, Village Recorder, Soundlabs

Similar to:

Alisa & The Nomads
The Bangles
The Beatles
The Clash
The Glyders
The Go-Gos
The Kinks
The Knack
The Jam
The Pretenders
The Rolling Stones

Keywords:

American Philosopher, composer, lyricist, award winning, award winner, UCLA Film School, music videos, MTV, record producer, recording engineer, singer, bassist, guitarist, acoustic guitarist, electric guitar, Fender Stratocaster, Rickenbacker 4000 bass, Plush amplifiers, Marshall Mk V II, bass guitar, percussionist, flutist, flautist, flute player, soloist, performer, lead guitar, classic rock, blues, rock'n'roll, folk rock, classical music, spanish classical, poetry, philosophy, philosopher, manhood, youth, teenager, young man, adulthood, masculinity, ethics, morals, righteousness, peace, love, sex, lust, hippy coyote, dicky dare, dickie dare, Shifu, American Zen, Lotus, Rich Connor, The Rich, temptation, temptress, cocaine, coke, drugs, menage-a-trois, threesome, seduction, seducer, seductress, Rita Wolf, Malia, Santa Monica, Village Recorder, Marc Paladino, Gary Star, Dick LaPalm, Geordie Hormell, Frank Zappa, Badfinger, The Troubadour, The Roxy, The Whiskey A-Go-Go, sunset strip, hollywood, hollywood nightclubs, punk rock, new wave, slam dance, the masque, Jennifer Olds, Jan Ballard, Venice Beach, Don Bertolucci, Vinnie Lauria, Bill Stewart, Scott Kohler, Bob Shames, Felix Papalardi
TEMPTATION
Richard O'Connor
---
version: vinyl ep
size: 12" record in sleeve with B/W Cover

---
(Format sold here: 12" record disc by mail order)
Released August, 1984, Shaolin Records, Santa Monica, California.
This is the vinyl EP album that launched Shaolin Records in the summer of 1984. I was in our storage unit last week and saw the last couple boxes of this release, unopened, 25 records in each box, total = 224. The last ones.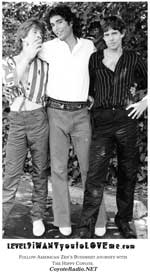 I'm gonna sit on them and wait until they are auctionable. Coyote's been setting aside broken drumsticks the last year. He dates them and signs them, then tosses them into storage. There are a couple of drum heads he autographed with a lot of blood on them. During Coyote's first couple years as a drummer he hit his knuckles on the snare drum rim a lot of times. Even he did put a bandaid on, he waited until the end of the song.
I noticed that a European perfume company/adult accessories company used our album design from the TEMPTATION album for their product catalog. That was tacky. Perhaps if they'd pay me some royalties for graphic design and copyright infringement--I'd feel better.
As for that company that has been bootlegging these albums in Europe... they still haven't returned my emails and their distributor said they'd check into it...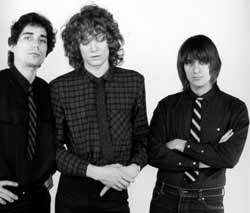 Recorded at Capitol Records and Cherokee Studios in Hollywood, California.