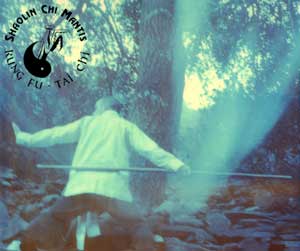 2 years of Shaolin Staff training designed to create a martial artist worthy of the legends of Shaolin Monks with their unsurpassed staff abilities. One Shaolin Monk with a staff on the battlefield, was considered to be equal to ten foot soldiers with swords or spears.
One entire semester is required to teach the basic movements and battlefield concepts of Shaolin staff. By the end of the first semester, Staff Class students are capable of learning the rigorous and difficult staff forms of the Shaolin Temple.
Graduates of this first semester will advance to the second of three semesters of staff training.
The second semester will develop the TWO-MAN STAFF FORM: "Fire & Water," seen on the intro of the David Carradine "Kung Fu" TV series shows. It's a fun Kung Fu Form that always impresses audiences.
The 2nd year teaches the ancient staff form: "Ground Demon Quelling Staff Form." Whereas the Monk Spade Form teaches a lot of high-in-the-sky moves intended to take someone down off a horse, this advanced staff Form includes Drunken Staff and some cool rolling-on-the-ground fighting moves that enable you to take down any "ground demon" from monster to man. After you learn the "Ground Demon Quelling Staff Form," you will know everything you need to know and should know about Shaolin Kung Fu Staff.
This is an excellent opportunity to build up your arms and upper body -- Shaolin Style!