My Photos Deleted
by The Hippy Coyote
In 2006 Shaolin Chi Mantis shut down their shopping cart full of Chinese imported clothing and over 100 classical Kung Fu weapons.
Buddha Zhen pulled the plug. He never planned to start a Kung Fu weapon retail business, beyond supplying the weapons his students needed for their Kung Fu and Tai Chi training. Since 911, shipping charges have doubled and most of his students are learning Tai Chi, instead of the more challenging Shaolin Kung Fu.
So, this means that hundreds of my photos have been deleted from the web.
These bluish photos were taken with really old Polaroid film I found in a drug store.
The pharmacist gave me the film at half price saying, "I'm not guaranteeing that this film is ok."
We both noticed it was several years older than the "sell by" date listed on the box.
The Polaroid SX-70 Land Camera I used must have had a light leak, because these rays of light were not added by me.
This makes me smile. I graduated UCLA Film School as a Director of Photography in commercials and music videos. I learned how to "paint with light."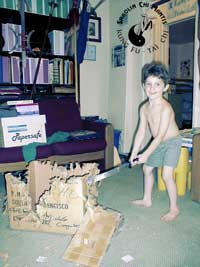 This is more difficult than it sounds as you start adding more and more lights and the lights blend together and the colors mix... As one of my cinematography mentors told me when I called him up for advice on a music video I was shooting that had to dolly between three rooms onto the front porch, at night, with a lit Christmas tree. He said, "When the lighting seems to be out of your control, turn them all off and then turn them back on, one by one."
The reason I'm smiling over all of this is, despite my ability to control lighting and reflections and film color and shutter speed--sometimes it's nice to get something unexpected. This Angeles Forest weapon shoot was one of those experimental days that feels rewarding because I got something unexpected yet usable.
Coyote's KUNG FU MUSIC is in the Shaolin Records ONLINE RECORD STORE: